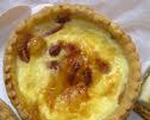 Prep: 20 min
Cook Time: 20 min
Total: 40 min
Serving: 6
Special Broccoli Quiche's unique crust is made from Pilsbury crescent rolls.
Ingredients
1, 10 ounce package frozen broccoli, chopped
1 cup onion, chopped
1/2 cup butter
1/2 teaspoon parsley
1/2 teaspoon salt
1/2 teaspoon pepper
1/4 teaspoon garlic powder
1/4 teaspoon basil
1/4 teaspoon oregano
2 eggs, beaten
1, 8 ounce package Mozzarella cheese, shredded
8 ounce can Pilsbury crescent rolls
Directions
Cook broccoli and onion in butter, until tender. Stir in herbs and seasonings.
In bowl, blend eggs and cheese. Stir in vegetable mixture.
Separate dough into triangles. Place in ungreased 11 inch quiche pan or pie pan. Press dough into sides and bottom to form a crust.
Pour vegetable mixture into crust. Bake at 375 degrees F for 20 minutes. Cover with foil for last 10 minutes. Let stand 10 minutes before serving. Cut into wedges.