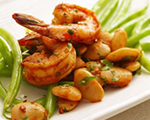 Prep: 10 min
Cook Time: 12 min
Total: 22 min
Serving: 6 Servings
Succulent pieces of sautéed garlicky shrimp, along with fresh green beans and large butter beans, make a wonderful light and healthy Spanish-inspired lunch entrée.
Ingredients
4 cups green beans, trimmed (about 12 ounces)
3 tablespoons extra-virgin olive oil
1/4 cup minced garlic
2 teaspoons paprika
1 pound raw shrimp, peeled and deveined
2 16-ounce cans large butter beans, rinsed
1/4 cup sherry vinegar or red-wine vinegar
1/2 teaspoon salt
1/2 cup chopped fresh parsley, divided
Freshly ground pepper to taste
Directions
In a medium-sized sauce pan, bring 1-inch of water to boil and then place the beans in a steamer basket over the boiling water; cover and steam for 5 minutes.
Heat the olive oil in a large sauté pan over medium-high heat, and sauté the garlic and paprika for about 25 seconds, stirring constantly.
Drop in the shrimp and sauté for about 5 minutes until opaque, and then add in the beans, vinegar and salt. Stir the mixture and cook for an additional 2-1/2 minutes, then remove from heat and stir in 1/4 cup parsley.
Place the green beans on a serving platter and top with the shrimp mixture and then sprinkle with the remaining 1/4 cup parsley. Serve immediately.