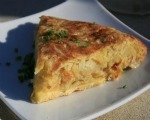 Prep: 25 min
Cook Time: 15 min
Total: 40 min
Serving: Serves 4 people
This staple is a well-known Spanish dish. Spanish Omelette can be served for breakfast or dinner. Mix in mushrooms or tomato sauce to suit your tastes.
Ingredients
1 pound of baking potatoes, peeled, sliced and lightly sprinkled with salt
1/3 cup of olive oil
1 medium yellow onion, thinly sliced
1, 1/2 teaspoons of kosher salt
1/4 teaspoon of black pepper
6 eggs
1 tablespoon of fresh rosemary, finely chopped
1 garlic clove, minced
Juice from half a lemon (optional)
Directions
Heat the oven to 350 degrees. Peel and slice the potatoes in half, cutting them into 1/4-inch thick slices.
Heat olive oil in an ovenproof, non-stick skillet over medium heat. Add the potatoes and cook for about 10 minutes, or until they are almost tender. Add the onion and cook until softened, or about 5 minutes.
Pour off all but one tablespoon of the oil from the potatoes and onion mixture, and season them with 1 teaspoon of the salt and pepper.
In a medium bowl, combine the eggs, rosemary, garlic and remaining salt.
Pour the eggs over the potatoes and reduce the heat to low. Cook them, without stirring, for a minute.
Stir once and cook until the eggs begin to set, or for about three minutes. Transfer them to the oven and bake until set, or for about 8 minutes.
Once cooked, use a knife to go around the edges of the skillet to loosen the omelette.
Slide or invert the omelette onto a flat plate, about the same diameter as the skillet.
Cut the omelette into wedges to serve. Sprinkle with salt to taste, and fresh lemon juice (optional).