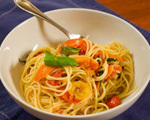 Prep: 10 min
Cook Time: 10 min
Total: 20 min
Serving: 4 Servings
Using fresh ingredients like basil, tomatoes and freshly grated parmesan cheese gives this dish amazing flavor and color.
Ingredients
12 ounces spaghettini
1/4 cup olive oil
6 garlic cloves, chopped
4 ounces bacon, chopped
1/4 teaspoon dried crushed red pepper
1 1/2 pounds cherry tomatoes
3 tablespoons shredded basil
1-1/4 cups grated Parmesan cheese, divided
Sea salt and freshly ground pepper to taste
Directions
Cook the pasta according to package direction, drain (reserving 1/2 cup of pasta liquid) and then place back into pot.
In the meantime, place the oil in a large sauté pan over medium-high heat and sauté the garlic for 30 seconds.
Add the bacon and the crushed red pepper to the pan and cook for 4 minutes, then add the tomatoes and cook the mixture for 5 minutes more.
Transfer the bacon mixture to the pasta along with 3/4 cup of cheese. Toss to combine over medium heat until the cheese melts, adding the reserved pasta liquid as needed.
Season the pasta with salt and pepper and serve immediately topped with the basil and the remaining cheese.