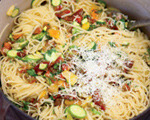 Prep: 10 min
Cook Time: 10 min
Total: 20 min
Serving: 4 Servings
In Italian cooking, sometimes less means more. Take this spaghetti recipe for example, where a simple combination of ingredients brings forth a bold and delicious blend of tastes and flavors.
Ingredients
1 pound tomatoes, cored and finely chopped
1 tablespoon chopped basil
1 tablespoon chopped parsley
2 cloves garlic, minced
2 teaspoons sea salt
1 small red chile, seeded and minced
1/3 cup extra-virgin olive oil
12 ounces spaghetti
3 baby zucchini, thinly sliced
1/4 cup freshly grated Parmigiano-Reggiano cheese, plus more for serving
Directions
Place the tomatoes, zucchini, basil, parsley, garlic, salt, chile and olive oil into a large bowl and toss well to combine.
Cook the spaghetti 'al dente' according to package directions, drain and then add to the bowl with the tomato mixture along with the cheese. Toss well to combine and serve immediately.