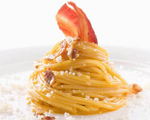 Prep: 15 min
Cook Time: 26 min
Total: 41 min
Serving: 4 Servings
This traditional Italian dish can be made with spaghetti, fettuccini, rigatoni or bucatini. Serve with a few grinds of fresh black pepper on top.
Ingredients
4 large eggs
1/2 cup heavy cream
1 small diced onion
3 cloves of garlic, diced and crushed
12 ounces (3/4 of a pound package) spaghetti
4 tablespoons fresh grated parmesan
8 strips of thickly cut bacon, cut into thin strips or diced
Freshly ground black pepper
Sea salt
Directions
In a large bowl, beat together the eggs, Parmesan, heavy cream, a few pinches of salt and 6 grinds of black pepper. Set aside.
In a large sauté pan, cook the bacon until lightly crisp and set aside.
Cook the spaghetti according to the package directions and drain.
Meanwhile, add the onion to the skillet with the bacon and sauté on medium-low heat for about 7-8 minutes or until soft. Add the garlic and sauté for 1 minute.
Place drained spaghetti in the sauté pan and toss well with the bacon and garlic mixture.
Pour in the egg mixture and mix vigorously so the egg doesn't scramble. The egg will cook in the hot pasta. Sprinkle with pepper and serve immediately.