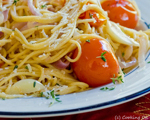 Prep: 10 min
Cook Time: 15 min
Total: 25 min
Serving: Serves 8
The balsamic vinegar transforms this pasta sauce from a typical red sauce to a savory and sweet flavorful combination. Sprinkle with some good quality Parmesan cheese and dig in!
Ingredients
1 teaspoon olive oil
1 teaspoon minced garlic
5 to 6 chopped tomatoes, or a 28 ounce can of plum tomatoes
3-1/2 tablespoons balsamic vinegar
salt & freshly ground pepper to taste
1/4 Cup chopped fresh basil
1/2 Pound spaghetti
Parmesan cheese
Directions
In a large sauté pan, heat the olive oil and sauté the garlic until fragrant.
In a large glass bowl, mix the tomatoes, balsamic vinegar, salt and pepper and basil. Set aside but continue to stir occasionally.
Cook spaghetti according to directions on package. Drain and keep warm.
Add the tomatoes to the sauté pan with the garlic, and cook just until heated through. Add to the pot with the spaghetti and toss well. Sprinkle with Parmesan cheese and serve immediately.