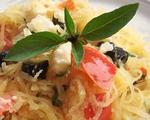 Prep: 15 min
Cook Time: 30 min
Total: 45 min
Serving: 6 Servings
This dish works well as a flavorful side dish or as a vegetarian meal. Try tossing with colorful vegetables to make it appealing to the eye!
Ingredients
1 spaghetti squash, cut lengthwise and seeded
2 tbsp vegetable oil
1 onion, chopped
1 clove garlic, minced
1 1/2 cups chopped tomatoes
3/4 cup crumbled feta cheese
3 tbsp sliced black olives
2 tbsp chopped fresh basil
Salt and ground black pepper, to taste
Directions
Preheat oven to 350 F and lightly grease a baking sheet.
Place spaghetti squash with cut sides down on the sheet and bake 30 minutes or until a sharp knife can be inserted with barely any resistance.
Remove squash from oven and let cool for about 10 minutes or until it can be handled.
In the meantime, heat vegetable oil in a skillet over medium heat. Saute onion until tender. Add garlic and saute for 2 to 3 minutes.
Stir in the tomatoes and cook only until tomatoes are warm.
Use a large spoon to scoop the string-like "spaghetti" pulp from the squash and place in a medium bowl. Discard skins.
Toss "spaghetti" with the sauteed vegetables (feel free to add other kinds), olives, feta cheese, basil and salt/pepper. Serve warm.