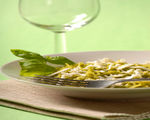 Prep: 5 min
Cook Time: 30 min
Total: 35 min
Serving: 4
Spaghetti squash is a dieter's dream at only 37 calories per half cup. Choose spaghetti squash that is very hard and smooth.
Ingredients
1 (4 pound) spaghetti squash
1 tablespoon butter (or olive oil)
1 garlic clove, minced
1 cup diced tomatoes
1 cup pitted black olives, chopped
2 tablespoons crumbled Feta cheese (or Parmesan)
½ cup chopped fresh parsley
4 to 6 basil leaves, rolled tight, sliced thin
Pinch or two salt
Black pepper to taste
Directions
Preheat oven to 375 degrees F.
Carefully pierce the shell of the squash all over with a fork.
Place in a baking dish and cook until the shell is easily pierced with a fork and flesh is tender. Alternatively, heat a large pot of water to boiling. Carefully add pierced squash and boil for 20 to 30 minutes or until shell is easily pierced with a fork and flesh is tender.
Once squash is cooked, allow it to cool for 10 minutes or until cool enough to handle.
Cut it in half and remove the seeds with a serrated or regular spoon.
Pull a fork lengthwise through the flesh to separate it into long strands.
Place strands in a large serving bowl.
Continue until all of the flesh is removed from the outer shell.
Melt butter in a small nonstick skillet over medium heat and cook garlic until fragrant, stirring frequently, about 2 minutes.
Add tomatoes and olives and cook, stirring, for another 2 minutes.
Pour into bowl of spaghetti and add Feta, parsley, basil, salt and pepper, tossing to combine.
Serve immediately in pasta bowls or allow to cool, cover tightly and refrigerate.
This dish can be eaten warm or cold.