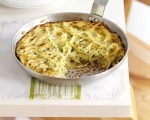 Prep: 25 min
Cook Time: 10 min
Total: 35 min
Serving: Serves 4-6 people
Spaghetti frittata is a fun twist to a more traditional egg dish. Use spaghetti, angel hair or another long pasta for this fun frittata that is great served for dinner with crunchy Italian bread.
Ingredients
12 ounces spaghetti (or long pasta of your choice)
3 tablespoons butter
1/2 cup freshly grated Parmesan cheese
3 eggs
1/3 cup olive oil
Sea salt to taste
Freshly grated black pepper to taste
2 tablespoons freshly chopped parsley
Directions
Cook the spaghetti until it's al dente, or almost cooked through. Drain it and mix it with the butter, cheese and parsley. Allow the spaghetti mixture to cool thoroughly, stirring often so it doesn't stick together.
In a small bowl, beat the eggs. Season them with salt and pepper and pour them over the spaghetti mixture. Toss thoroughly.
Add 4 tablespoons of the olive oil to a medium-sized sauce pan over medium-high heat. When hot, add the spaghetti and egg mixture. Spread it out evenly across the pan. Cook the mixture for about 5 minutes, browning it evenly by tilting the pan a bit as it cooks.
When the outside edges of the frittata are golden, slide it onto a plate, add the remaining olive oil to the pan, and return the frittata to the pan its other side to cook.
When cooked, slice into wedges and serve warm.