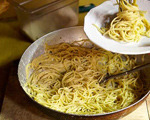 Prep: 10 min
Cook Time: 12 min
Total: 22 min
Serving: 8 servings
This Italian-inspired pasta dish is a simple combination of spaghetti, freshly grated Pecorino Romano and Parmigiano-Reggiano cheese, a few pinches of sea salt and copious amounts of freshly ground black pepper. E' molto delizioso!
Ingredients
3/4 pound spaghetti
3/4 cup freshly grated Pecorino Romano cheese
1/3 cup freshly grated Parmigiano-Reggiano cheese
1-1/2 tablespoons coarsely ground black pepper
Sea salt
Directions
Cook the pasta 'al dente' according to package directions, drain (reserving 1/2 cup of the pasta cooking liquid) and then place back into the pot.
In the meantime, put the Pecorino Romano and Parmigiano-Reggiano cheese into a bowl and toss to combine.
Sprinkle the cooked pasta with some of the cheese mixture and then add a few tablespoons of the reserved cooking liquid. Toss the pasta to coat and then continue this process until all of the cheese and liquid has been used up.
Add the freshly ground black pepper and a few pinches of sea salt to the pasta and toss once again to combine. Serve immediately.