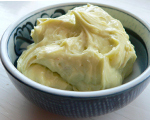 Prep: 10 min
Cook Time: –
Total: 10 min
Serving:
Looking for a substitute for your traditional high-cholesterol mayonnaise? Try this creamy and tangy spread instead.
Ingredients
3 cups soy milk
1 cup of sunflower oil
1 tablespoon cider vinegar
Optional seasonings - garlic, herbs, chili, curry powder (to taste)
Directions
Pour the soy milk into a blender, in addition to any optional seasonings.
With the blender on, slowly add the oil in a stream to the soy milk, and blend well.
Next, add the vinegar and continue to blend. You will notice that this will immediately thicken the mixture.
Keep soy mayonnaise refrigerated in a tightly closed glass jar for up to five days.