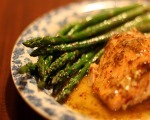 Prep: 10 min
Cook Time: 35 min
Total: 45 min
Serving: Serves 4 people
This dish combines a few basic flavors and simple preparation to create a memorable meal. Soy Marinated Chicken with Asparagus served with brown rice is good for entertaining or family dinners.
Ingredients
4 boneless, skinless chicken breasts
4 ounces asparagus spears
1 large orange
2 tablespoons soy sauce
Directions
Preheat your oven to 350 degrees F. Slice the chicken breasts diagonally into several slices per breast. Place them in an oven-proof baking dish in a single layer.
Slice the orange in half. Juice one half the orange into the soy sauce and mix together. Pour over the chicken. Cut the other orange half into wedges and place on top of the chicken. Cover and allow to marinate, refrigerated, for several hours.
Bake the chicken for 20 minutes. Turn the chicken and bake for another 15 minutes, or until cooked through.
Break the asparagus so the hard ends come off. Using a deep skillet, add enough water just to cover the asparagus. Boil the water, add the asparagus and cook for about 4 minutes. Drain and arrange asparagus on a serving platter.
Top the asparagus with the chicken and spoon the liquid over the chicken. Serve warm.