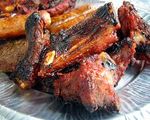 Prep: 30 min
Cook Time: 9 hr
Total: 9 hr 30 min
Serving: 6
Brought to you from Crockery Cookery.
Ingredients
5 lbs. spareribs, cut into two-rib pieces
1/4 teaspoon salt
1/4 teaspoon pepper
1/4 teaspoon garlic
1/2 cup pineapple juice
2 tbsp. wine vinegar
1/4 cup white wine
2 tbsp. soy sauce
2 tbsp. honey
1/2 cup chick broth or bouillon
2 tbsp. cornstarch
3 tbsp. cold water
Directions
Place spareribs on rack in shallow baking pan.
Brown in 400° oven for 30 minutes, turning ribs once.
Remove from oven.
Pour off fat.
Sprinkle ribs with salt and pepper.
Place in crock pot.
Mix remaining ingredients except cornstarch and water.
Pour over ribs.
Cover and cook on low 7 to 9 hours.
Turn control to high.
Dissolve cornstarch in 3 tablespoons cold water. Stir into rib mixture.
Cook 10 to 15 minutes or until slightly thickened.