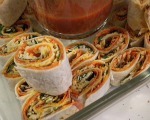 Prep: 15 min
Cook Time: –
Total: 15 min
Serving: Serves 8-10 people
An easy-to-make snack that everyone loves. Southwestern Style Snack Rolls can be modified with a variety of fillings depending on your guests or your tastes.
Ingredients
1, 4-ounce package of cream cheese, softened
3-4 tablespoons prepared salsa
1 cup refried beans, mashed
1-2 ripe avocados, mashed
1/2 cup arugula leaves (or another type of lettuce)
4, 6-inch whole-wheat tortillas
1/2 cup (or a bit more) shredded Mexican-style cheese
1/4 cup chili powder
Directions
In a small bowl, mix together the cream cheese, salsa and chili powder. In a separate bowl, mash the refried beans, and in another, the avocados.
Place the tortillas on a flat surface and layer first with the cream cheese mixture. Next, the arugula, then the beans, avocado and finally the shredded cheese. Roll the tortillas up tightly and cut them crosswise into 4-5 slices.