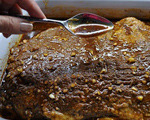 Prep: 5 min
Cook Time: –
Total: 5 min
Serving: Makes enough marinade for 1-1/2 pounds steak
When you hear the word 'Southwestern cooking' certain ingredients and flavors are brought to mind like: chipotle, cilantro, lime, flavorful, spicy, and zesty. Try this steak marinade that captures all of those wonderful elements in one simple recipe.
Ingredients
2 large garlic cloves, chopped
2 tablespoon chipotle puree
1 large handful of cilantro, chopped
2 tablespoon olive oil
3/4 teaspoon sea salt
1/2 teaspoon minced fresh rosemary
Zest of 1 small lime
1 tablespoon lime juice
1/4 teaspoon rosemary
3 tablespoons fresh orange juice
Freshly cracked pepper
2 tablespoons minced shallots
Directions
Place all of the ingredients listed above into a bowl and whisk vigorously until thoroughly blended. Transfer the mixture to a large Ziploc bag, add the steak and seal after removing the air from the bag.
Massage the bag to combine the ingredients and to coat the steak, and then place in the refrigerator for at least 8 hours to marinate. Discard the marinade after using.