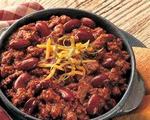 Prep: 45 min
Cook Time: 55 min
Total: 1 hr 40 min
Serving: 6
Lots of rich flavor in this satisfying Southwestern Red Bean Chili, a vegetarian classic that will warm your family and guests.
Ingredients
3 cups small red beans, cooked and drained
1 teaspoon chili powder
8 ripe Italian tomatoes, chopped
1 small can green chilies, chopped
1/2 cup low sodium soy sauce
1/2 cup non alcoholic red wine
2 teaspoons ground red pepper
3 onions, chopped
1 cup celery, chopped
1 cup carrots, chopped
1/2 teaspoon olive oil
1 teaspoon ground cumin
1 teaspoon dry basil
3 tablespoons tomato paste
4 garlic cloves, minced
2 pounds mushrooms, sliced
Directions
Coat a 6 to 9 quart heavy pot with non stick spray. Add the mushrooms, beans, onions, celery, carrots, oil, cumin, basil, and chili powder. Stir well to coat all ingredients with oil. Cover and cook over medium heat for 10 minutes or until onions are soft.
Add the tomatoes, chilies, soy sauce, wine, tomato paste, garlic and pepper. Increase the heat to high and bring to a boil. Lower the heat and simmer for at least 45 minutes. The flavor improves the longer the chili simmers.