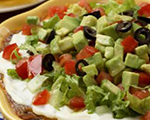 Prep: 10 min
Cook Time: 4 min
Total: 14 min
Serving: 4 Servings
This dip is always a favorite at friendly gatherings. Serve with baked tortilla chips and toasted pita bread wedges.
Ingredients
1 16-ounce can spicy refried beans
1 15-ounce can black beans, rinsed
4 scallions, sliced
1/2 cup prepared salsa
1/2 teaspoon ground cumin
1/2 teaspoon chili powder
1/4 cup pickled jalapeño slices, chopped
1 cup shredded Monterey Jack cheese
1/2 cup reduced-fat sour cream
1 1/2 cups chopped romaine lettuce
1 medium tomato, chopped
1 medium avocado, chopped
1/4 cup canned sliced black olives
Directions
Place the refried beans, black beans, scallions, salsa, cumin, chili powder and jalapeños in a large bowl and toss to combine.
Transfer the bean mixture to a microwave safe bowl and sprinkle evenly with the Monterey Jack cheese.
Place in microwave and heat on high for about 4 minutes; the cheese will have melted and the beans will be warm.
Evenly spread the sour cream on top of the beans and then top with the lettuce, tomato, avocado and olives. Serve immediately.