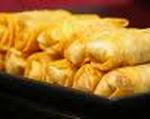 Prep: 40 min
Cook Time: –
Total: 40 min
Serving: Serves 6 People
Try this delicious Southwestern take on egg rolls.
Ingredients
1 tablespoon vegetable oil
1 can Libby's "Mexicorn" with red & green bell peppers
1 stalk cilantro
1 large can black beans
3 tablespoons fresh, minced garlic
3 tablespoons cumin
2 tablespoons black pepper
1 pound chicken breasts (skinless and boneless)
6 burrito-sized white flour tortillas
Small slices of Monterey Jack cheese
1 bag of fresh spinach or romaine lettuce
1 cup of sour cream
2 cups of shredded chedder cheese (optional)
Butter Crisco for deep frying
Directions
Cut and dice chicken breasts into small cubes. Heat skillet with 1 tablespoon vegetable oil and let cook; sprinkle with cilantro, pepper, and cumin.
In another large skillet, heat 2 tablespoons of vegetable oil; add, cilantro, garlic, cumin, Mexicorn, and black beans; cook on medium-high heat, until cooked thoroughly; cover and simmer.
When chicken is cooked, add chicken to the corn and bean mixture, simmer.
Open tortillas, place slices of cheese across middle for faster melting; add 3 tablespoons of mixture on the cheese; lay fresh spinach leaves on top of mixture in tortilla add 3 teaspoons of sour cream behind layers; fold in the ends and roll up.
Heat butter Crisco in deep fryer or pan at medium-high to high heat. Place egg rolls in grease and cook until light golden brown. Cool, cut in half and serve.