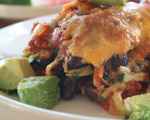 Prep: 15 min
Cook Time: 50 min
Total: 1 hr 5 min
Serving: Makes 6 to 8 Servings
A mix of spices, such as chili powder, oregano and cumin, give this zucchini and black bean casserole its zesty Southwestern flavor and charm.
Ingredients
1 medium onion, chopped (about 1 cup)
1 medium-sized green bell pepper, chopped
2 tablespoons olive oil plus extra to grease dish
2 cups crushed corn tortilla chips
1 (28-ounce) can crushed tomatoes
2-1/2 teaspoons chili powder
1-1/2 teaspoons dried oregano leaves
3/4 teaspoon ground cumin
2 (15-ounce) cans black beans, rinsed and drained
1 medium zucchini, shredded
2 cups (8 ounces) shredded Cheddar cheese
Directions
Preheat your oven to 350 degrees, and lightly grease a baking dish with olive oil.
Place the 2 tablespoons of olive oil in a large sauté pan over medium heat. Once it begins to shimmer, add the onion and the green pepper and cook for 4 minutes, then stir in the tomatoes, chili powder, oregano leaves and ground cumin. Bring the mixture to a boil and then reduce the heat to medium-low and simmer for 12 minutes.
Evenly spread 1/2 of the tortilla chips into a layer on the bottom of the prepared dish, followed by layers of the tomato mixture, black beans, zucchini and cheddar cheese. Repeat the layers and then place the dish in the oven for 30 minutes.
Remove the casserole and let stand for 5 minutes prior to serving.