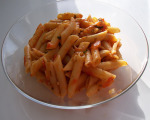 Prep: 15 min
Cook Time: 45 min
Total: 1 hr
Serving: Serves 6-8 people
Southwestern Arrabiata Sauce is a classic Italian pasta sauce with a twist. Serve with penne pasta for a spicy Italian meal.
Ingredients
1/4 cup extra virgin olive oil
1 small onion, finely chopped
1 or 2 jalapeno peppers with membranes removed, minced
3 garlic cloves, minced
1/2 teaspoon of fresh rosemary, chopped
1 teaspoon of salt
1/4 teaspoon of fresh ground pepper
1/2 teaspoon of fresh oregano, chopped
4 tablespoons of balsamic vinegar
1, 28-ounce can of tomato sauce
Directions
Add olive oil to a skillet and saute the onions and jalapenos over low heat until they are translucent, about 8-10 minutes.
Add garlic, rosemary, oregano, salt and pepper, and continue to saute for about 3-4 minutes.
Add the balsamic vinegar and tomato sauce, and simmer for about 30 minutes.
Toss with your favorite pasta. Use penne pasta for an Italian classic - with a Southwestern twist.