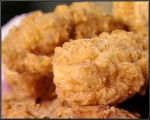 Prep: 1 hr 30 min
Cook Time: 30 min
Total: 2 hr
Serving: 4-6 servings
Ingredients
1 large fryer
1 cup cream or milk
2 tablespoons water
2 eggs
2 cups flour
salt and pepper
1/2 teaspoon paprika
1 cup bacon fat
1 cup shortening
1 tablespoon butter
Directions
Cut the chicken into frying sized pieces, season with the salt and pepper. Let set for 15 minutes.
Combine the cream , water and eggs and beat, Pour over the chicken and allow to soak for 1 hour.
Mix together the flour and paprika, roll the chicken pieces in the mixture.
In a skillet, melt the butter, bacon fat and shortening. Drop the chicken in the hot grease and fry until golden brown on medium.