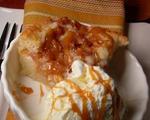 Prep: 10 min
Cook Time: 30 min
Total: 40 min
Serving: 6 Servings
This delightful apple bread pudding recipe is the perfect fall treat and is best served warm. Add some caramel and vanilla ice cream on top for an added treat!
Ingredients
2 cups chopped, peeled apples
1 cup white sugar
1/2 cup melted butter
1/4 tsp salt
1/4 tsp vanilla extract
1 cup milk
1 cup all-purpose flour
1 tsp ground cinnamon
2 tsp baking powder
Directions
Preheat oven to 375 F.
In a small baking dish, combine butter, sugar, flour, baking powder, salt, vanilla and milk until smooth.
n a microwave-safe bowl, combine apples and cinnamon. Microwave until apples are soft for about 2 to 5 minutes.
Pour apples into the center of the batter.
Bake for 30 minutes or until golden brown. Serve warm.