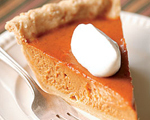 Prep: 30 min
Cook Time: 48 min
Total: 1 hr 18 min
Serving: Makes 1, 9-inch pie
This recipe for pumpkin pie has a creamier, richer filling than the traditional version due to the sour cream.
Ingredients
1, 9-inch prepared pie crust
1-1/2 cups freshly cooked or canned pumpkin puree
8 ounces sour cream
3/4 cup sugar
3 large eggs
1 teaspoon ground cinnamon
1/2 teaspoon ground ginger
1/2 teaspoon freshly grated nutmeg
1/4 teaspoon allspice
1/4 teaspoon salt
3 large egg whites, at room temperature
1/4 teaspoon cream of tartar
1/4 cup sugar
Directions
Preheat the oven to 350 degrees.
In a large sauce pan, heat the pumpkin, sour cream, sugar, egg yolks, cinnamon, ginger, nutmeg, allspice and salt over medium heat until the mixture is warm to the touch. Remove from heat immediately.
In a large bowl, beat the egg whites on medium speed until frothy, and then sprinkle in the cream of tartar. Continue to beat the whites until they form soft peaks and then add in the sugar and beat on high until whites are stiff and glossy peaks.
Carefully fold the whites into the cooled pumpkin mixture with a rubber spatula and then pour the filling into the prepared crust.
Bake the pie for about 45 minutes or until the top has turned a golden brown and has just set. Cool completely before serving with a dollop of whipped cream.