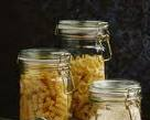 Prep: 15 min
Cook Time: 45 min
Total: 1 hr
Serving: 6
Sour Cream Noodle Delight tastes like a mild lasagna.
Ingredients
1 1/2 pounds ground beef
1 tablespoon butter
2 (8 ounce) cans tomato sauce
1 (8 ounce) package cream cheese
1/4 cup sour cream
1 cup cottage cheese
1/4 cup onion, chopped
1 tablespoon green pepper, chopped
1 package curly noodles, cooked and drained
2 tablespoons butter, melted
garlic salt
Directions
Brown ground beef in butter. Add tomato sauce. Put 1/2 the noodles in a buttered 9 x 13-inch baking pan. Reserve the other 1/2 of the noodles.
Mix together cottage cheese, cream cheese, sour cream, onion and green pepper. Spread on noodle layer. Pour melted butter over cheese layer.
Cover with remaining noodles; top with ground beef mixture. Sprinkle with garlic salt. Bake at 325 degrees F for 30 minutes.