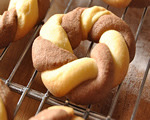 Prep: 25 min
Cook Time: 12 min
Total: 37 min
Serving: 10
Sour Cream Cookie Rings are dipped in sugar for extra sweetness.
Ingredients
1/2 cup butter, softened
3/4 cup sugar
2 eggs
1 cup sour cream
1/2 teaspoon almond extract
3 cups flour, sifted
2 teaspoons baking powder
1/2 teaspoon baking soda
1 teaspoon salt
1/4 cup sugar for dipping cookies
Directions
Cream butter; add 3/4 cup sugar and cream together again. Beat in 1 egg at a time. Add sour cream and almond extract.
Sift flour with baking powder, soda and salt. Add to creamed mixture and mix thoroughly.
Roll dough into strips 9 inches long. Bring ends of each strip together and twist. Form circle by bringing ends to the middle of strip. Dip each into sugar.
Bake at 400 degrees F for 10-12 minutes.