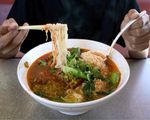 Prep: 5 min
Cook Time: 10 min
Total: 15 min
Serving: 4
This is a versatile dish that can be a simple side dish to other Asian cuisine or served with a modest portion of lean protein for a balanced meal on its own. What's more is that you can enjoy the meal warm, at room temperature or chilled.
Ingredients
For the dressing (makes ½ cup):
3 tablespoons grated gingerroot
Juice and zest of one large lime
3 tablespoons rice wine vinegar
Pinch salt
Black pepper to taste
Pinch red pepper flakes
1 tablespoon olive oil
For the noodles:
8 ounces dry somen noodles or whole wheat spaghetti*
(*or 4 cups cooked noodles or pasta)
4 green onions, white and green parts thinly sliced (about ¾ cup)
1 (6 ounce) red bell pepper, finely chopped (about 1 cup)
½ cup chopped roasted peanuts
½ cup finely chopped fresh cilantro
Directions
Place ingredients for dressing in a cruet and shake until well blended or whisk ingredients together in a small bowl.
Set aside.
Bring a large saucepan of water to a boil and add somen noodles.
Cook following package instructions until al dente, about 5 to 6 minutes.
Drain well in a colander and transfer to a large serving bowl.
Add green onion, bell pepper, peanuts, and cilantro to the noodles.
Shake or whisk dressing again and pour half of it, about ¼ cup, over noodles, tossing to evenly coat. Serve garnished with extra cilantro leaves.
Place remaining dressing on the table to drizzle more as desired.
If making ahead, combine all ingredients except for peanuts.
Store covered in the refrigerator and add nuts right before serving.
This will keep nuts crunchy.