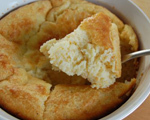 Prep: 10 min
Cook Time: 47 min
Total: 57 min
Serving: 4 Servings
This recipe for spoon bread is crusty on the outside and soft in the center. If you select to use stone-ground yellow cornmeal it will give the bread more of a soufflé-like texture.
Ingredients
3/4 cup yellow cornmeal, stone-ground if desired
1/4 cup all-purpose flour
1 tablespoon sugar
1 teaspoon salt
1 teaspoon baking powder
1 large egg, beaten
1 cup milk plus 1/2 cup milk divided
2 tablespoons butter
Directions
Preheat your oven to 375 degrees.
Place the cornmeal, flour, sugar, salt and baking powder into a large bowl and stir to combine. Add the egg and the 1 cup of milk and continue to mix until thoroughly blended.
Place the butter into an 8-inch square baking dish and place in the oven for a few minutes to melt.
Remove the pan and evenly distribute the butter along the bottom of the pan to coat. Transfer the batter to the pan and then pour 1/2 cup milk over the top.