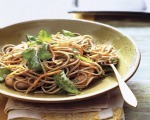 Prep: 15 min
Cook Time: 15 min
Total: 30 min
Serving: Serves 4-6 people
For a healthy and filling meal, try Soba Noodles with Shrimp, Snow Peas & Carrots. This is a favorite your guests or family with love.
Ingredients
1/4 cup creamy peanut butter
4 ounces snow peas
1 pound large shrimp, shelled and deveined with tails removed
1, 8-ounce package soba noodles (buckwheat)
about 4-5 ounces of shredded or matchstick carrots (about 1-1/2 cups)
2 teaspoons peeled, grated fresh ginger
2 tablespoons low-sodium soy sauce
1 tablespoon distilled white vinegar
1 teaspoon sesame oil
1/2 teaspoon hot sauce
1/2 cup packed fresh cilantro, chopped (save some for garnish)
Directions
In a small bowl, combine the peanut butter, ginger, soy sauce, vinegar, oil, hot sauce. Set aside.
Bring a large pan of with water and 1 teaspoon of salt to a boil. Add the noodles and cook for about 4 minutes. Add the carrots and cook for another minute. Add the shrimp and snow peas. Cook another 2 minutes.
Drain the noodles, shrimp & vegetables, reserving about 1/2 cup of the water. Transfer to a large bowl.
Whisk together the reserved cooking water and the peanut butter mixture until blended. Add the peanut sauce and the cilantro to the noodle mixture and toss until evenly coated.
Serve in individual bowls and garnish with remaining cilantro.