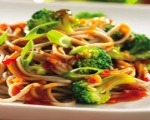 Prep: 15 min
Cook Time: 20 min
Total: 35 min
Serving: Serves 4-6 people
Soba noodle stir fry uses a popular Japanese noodle for this dish with lots of fresh veggies. This is a delicious stir fry!
Ingredients
8 ounces uncooked soba noodles (or packaged as Japanese buckwheat pasta)
1 tablespoon extra-virgin olive oil
2 cups sliced fresh shiitake mushrooms
1 medium red bell pepper, cut into thin strips
1/4 teaspoon crushed red pepper
1 clove garlic, minced
2 cups shredded napa cabbage
1/2 cup low-sodium vegetable broth
2 tablespoons reduced-sodium tamari or soy sauce
1 tablespoon rice wine or dry sherry
2 teaspoons cornstarch
1 (14-ounce) package firm tofu, drained and cut into 1-inch cubes
2 green onions, thinly sliced
Directions
Cook the noodles according to the package directions, drain and set aside.
Use a large non-stick skillet or wok to heat the oil over medium heat. Add the mushrooms, bell pepper, red pepper and garlic. Cook for about 3 minutes, or until the mushrooms are tender.
Add the cabbage and cover the pan. Cook for about 2 minutes or until the cabbage is wilted.
In a small bowl, combine the vegetable broth, tamari or soy sauce, rice wine and cornstarch. Stir the sauce into the vegetable mixture and cook for about 2 minutes or until the sauce bubbles.
Add the tofu and noodles to the mixture. Gently toss everything together until it's all heated through. Garnish with the green onions and serve immediately.