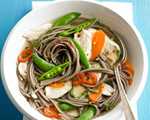 Prep: 10 min
Cook Time: 15 min
Total: 25 min
Serving: 4 Servings
A warm soba bowl is a popular Japanese winter dish made with buckwheat noodles. Serve it for a light dinner or lunch.
Ingredients
2 14-ounce cans reduced-sodium chicken broth
1 cup water
2 6-ounce skinless, boneless chicken breast halves
2 medium carrots, thinly bias-sliced
6 ounces soba (buckwheat noodles)
1 red or green jalapeño pepper, thinly sliced and seeded
2 tablespoons reduced-sodium soy sauce
8 ounces fresh sugar snap peas, cut in half
Crushed red pepper flakes to garnish
Directions
Place the broth and 1 cup of water into a large saucepan and bring the mixture to a boil.
In the meantime, use a sharp knife to slice the chicken into thin slices and then place in the boiling broth mixture along with the carrots, noodles, jalapeño, and soy sauce.
Cook the mixture, covered, over medium heat for 8 minutes and then stir in the peas and cook for an additional 3 minutes.
Serve the noodle soup ladled into bowls and garnish with some crushed red pepper flakes.