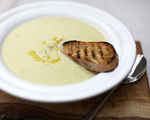 Prep: 15 min
Cook Time: 52 min
Total: 1 hr 7 min
Serving: 4 to 6 servings
A smooth and creamy autumn soup that can be garnished with crispy crumbled bacon or cubed pancetta sprinkled on top.
Ingredients
3 tablespoons butter
3 large leeks (white and pale green parts only), halved lengthwise, thinly sliced (about 4 1/2 cups)
2 large russet potatoes (about 18 ounces total), peeled, diced
4-1/2 cups chicken stock
olive oil to drizzle
4 slices toasted garlic bread
Directions
In a soup pot, melt the butter over medium heat and sauté the leeks for 2 minutes, stirring frequently.
Cover the pan and cook the leeks for 10 minutes and then add the potatoes and continue to cook for an additional 10 minutes, stirring often.
Pour in the vegetable stock and bring the mixture to a boil. Reduce heat, cover and simmer for 30 minutes.
With a handheld blender, puree the soup and sprinkle with salt and pepper. Ladle into bowls and serve hot, drizzled with olive oil and with a slice of garlic bread.