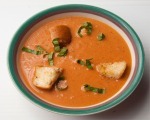 Prep: 15 min
Cook Time: 50 min
Total: 1 hr 5 min
Serving: Serves 6 people
Great on a cold day or night, Smooth & Creamy Tomato Soup warms you up, fills you up, and is a snap to make for a tasty meal. Use crunchy bread to make croutons or to serve with the soup.
Ingredients
4 tablespoons butter
1 onion, chopped
2 pounds tomatoes, peeled, seeded & chopped
1 bay leaf
4 fresh sprigs basil
4 fresh sprigs parsley
1 bay leaf
8 cups vegetable stock
1 tablespoon ketchup
3/4 cup heavy cream
Salt & pepper to taste
Fresh basil for garnish
Directions
Use a large saute pan and melt the butter over low heat. Add the onion and cook for 5 minutes (until soft), stirring occasionally. Add the tomatoes, bay leaf, basil and parsley. Season with salt and pepper and simmer, stirring occasionally, for about 15 minutes (until the tomatoes have cooked down and most of the liquid is evaporated).
Increase the heat to medium, add the vegetable stock and bring to boil. Reduce the heat, cover and simmer for 25 minutes.
Remove soup from heat and allow to cool slightly. Remove and throw out the herbs and add the ketchup to the soup and stir.
Transfer the soup to a food processor or blender (in small batches) and puree. If you see tomato seeds, pass the puree through a strainer.
Return the soup to a clean pan and reheat. Add the cream, stir and heat for 1-2 more minutes (over low heat), until the soup is hot. Season and serve in individual bowls. Use basis for garnish.