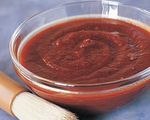 Prep: –
Cook Time: 1 hr
Total: 1 hr
Serving: Makes about 1 1/2 cups.
Grills are fired up and ready to go in parking lots across the nation for the great American sports tradition: tailgating. Every year, thousands faithfully don their team's colors and venture out, rain or shine, to cheer home a winner. Sports fans and home cooks alike can be the reigning champions of the parking lots with tailgating recipes from Nielsen-Massey Vanillas.
Since 1907, Nielsen-Massey has been dedicated to creating the finest vanilla in the world. The vanilla beans are hand-picked for perfection and go through an exclusive cold extraction process, which slowly, gently draws the delicate, distinctive flavor from the vanilla beans.
Nielsen-Massey's products compliment both sweet and savory dishes, so hungry football fans can be fed this season with hamburgers and chicken wings dressed with Smoky Vanilla BBQ Sauce or Apricot Mango BBQ Sauce from Nielsen-Massey.
Ingredients
1 tablespoon butter
1 tablespoon garlic, chopped
1 tablespoon canned chipotle chilis with sauce, chopped
2 tablespoons brown sugar
2 tablespoons red wine vinegar
1 tablespoon Worcestershire sauce
1 cup catsup
1 tablespoon dark molasses
1 tablespoon Nielsen-Massey Madagascar Bourbon Pure Vanilla Extract or Paste
Directions
Melt butter in a heavy saucepan. Add garlic and sauté until soft.
Add remaining ingredients and simmer, stirring occasionally, 45-60 minutes.