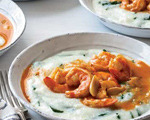 Prep: 5 min
Cook Time: 25 min
Total: 30 min
Serving: 4 Servings
This Southern-style smoky shrimp and grits dish made with fresh spinach and cheddar cheese is a delicious home-style meal. If you can't make your own homemade grits, use some quick-cooking grits instead to save time.
Ingredients
3/4 cup quick-cooking grits
Salt and freshly ground black pepper
2 ounces sharp white cheddar cheese, shredded 3/4 cup
1-1/2 cups baby spinach, coarsely chopped
1/4 cup snipped chives
1/4 cup canola oil
2 large garlic cloves, thinly sliced
1 pound shelled and deveined medium shrimp
1/2 teaspoon hot paprika
1/4 cup dry white wine
Directions
Cook the grits according to package directions.
Once the grits have cooked, stir in the cheddar cheese, spinach and chives and mix well until the cheese has completely melted.
In the meantime, place the onion into a large sauté pan over high heat. Once it begins to shimmer, add the garlic and cook for 30 seconds before stirring in the shrimp, paprika and a pinch of salt and pepper; cook the mixture for 2 minutes.
Pour the wine into the pan and cook until the shrimp turn white in color. Serve the grits in bowls topped with the shrimp mixture.