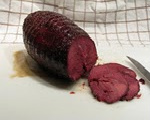 Prep: 40 min
Cook Time: 2 hr
Total: 2 hr 40 min
Serving: 6-8 servings
Ingredients
1 venison ham
3 white onions
6 potatoes
4 hot peppers
6 sweet peppers
4 tablespoons salt
2 tablespoons pepper
3 cloves garlic
3 stalks celery, chopped
1/4 cup lemon juice
1/2 cup vinegar
1/2 cup olive oil
1 cup Worcestershire sauce
1/2 cup butter
Directions
Place the ham in a large pot and cover with water. Mix in everything else but the Worcestershire and butter. Boil until tender.
Remove the potatoes, onions and meat. Smoke the meat using hickory and sassafras smoke.
To make your baste, melt the butter in a sauce pan and stir in the Worcestershire sauce. Baste the ham and turn every 30 minutes. Smoke for 2 hours.