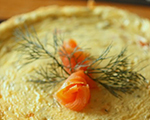 Prep: 4 hr
Cook Time: 35 min
Total: 4 hr 35 min
Serving: 32 servings
This rich and savory cheesecake, made with smoked salmon and cream cheese, is an ideal appetizer for your next posh party menu.
Ingredients
12 (1 cup) rye whole wheat or whole wheat crackers, crushed
1/4 cup butter, melted
2 (8-ounce) packages cream cheese, softened
2 eggs
1 tablespoon lemon juice
1 teaspoon freshly grated lemon zest
2 teaspoons Dijon-style mustard
2 teaspoons dried dill weed
8 ounces (2 cups) smoked salmon, skinned, boned, finely flaked
1/4 cup sliced green onion
Directions
Preheat the oven to 350 degrees.
For the crust, place the crackers and the melted butter in a medium bowl, mix until combined, and then transfer to a 9-inch springform pan, pressing onto the bottom of the pan to form the crust.
In a large bowl, beat the cream cheese until smooth and creamy, and then add the eggs and continue to beat until combined. Add in the lemon juice, lemon zest, mustard and dill weed and continue to beat until thoroughly combined.
Add the smoked salmon and the onions to the cream cheese mixture, stir to mix and then transfer to the cracker crust, spreading evenly to top.
Place the pan in the oven and bake for 35 minutes or until the cheesecake has set about 3 inches form the edge of the pan.
Remove from oven and cool the cheesecake for 15 minutes before removing the sides of the pan. Allow the cheesecake to cool for 1 additional hour at room temperature, and then for 2 hours in the refrigerator, before letting stand for 25 minutes at room temperature and then slicing and serving.