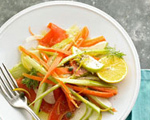 Prep: 10 min
Cook Time: –
Total: 10 min
Serving: 4 Servings
Use wild smoked salmon as an alternative to the farm-raised variety, for a healthier and tastier alternative.
Ingredients
4 ounces thinly sliced smoked salmon
3 medium carrots, cut lengthwise in 1/2-inch-wide sticks
3 stalks celery, cut lengthwise into 1/2-inch-wide sticks
2 medium fennel bulbs, cored and thinly sliced
1 medium green apple, cored and thinly sliced
1/4 cup olive oil
1 medium lemon peel, shredded
1 medium lemon, juiced
1 teaspoon sugar
1/2 teaspoon salt
1 tablespoon capers, drained
Directions
Place the salmon, carrot, celery, fennel and apple into a large salad bowl.
Combine the olive oil, the lemon peel, lemon juice, sugar, and salt in a small bowl and whisk vigorously to blend.
Pour the vinaigrette over the salmon mixture and let stand for 10 minutes, tossing after 5 minutes.
Add the capers and toss once more. Serve immediately.