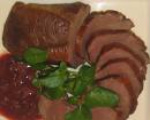 Prep: 48 hr
Cook Time: 8 hr
Total: 56 hr
Serving:
Simple smoked goose recipe.
Ingredients
1 goose
2/3 cup salt
1 tablespoons sugar
1 teaspoon saltpeter
1/2 clove garlic
Directions
Remove and debone the neck, wings and back off the goose. Carefully remove the skin from the neck, keeping intact to use for stuffing. Chop the meat into small pieces and stuff into the neck skin, tying at both ends.
Rub the neck, breast and legs with the salt. Mix together the remaining ingredients and rub into the meats. Place inside the crock and cover with a cloth and plate.
Place in the refrigerator for 2 days, turning occasionally. Remove and drain. Cover with a cheesecloth and smoke for 6-8 hours. Chill and slice.