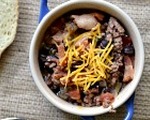 Prep: 10 min
Cook Time: 6 hr
Total: 6 hr 10 min
Serving: Serves about 8
Looking for a meal that will cook itself? Try this incredible chili made with thick-cut bacon, zesty spices and slow cooked beef. It's hearty, filling and full of flavor -- plus, the slow cooker does all the work!
Ingredients
1 pound ground beef
8 pieces of thick-cut bacon
16 ounces stewed tomatoes
1/2 cup beef broth
1 can black beans
1 medium onion, chopped
4 cloves garlic, minced
2 tablespoons crushed red pepper
Liberal dashes of salt and pepper
1/2 cup sliced mushrooms
Directions
Heat a pan over medium-high heat. Add the bacon and cook about 5 minutes, or until done. Remove from the heat and let cool slightly.
Add the beef, onion, broth, tomatoes, crushed red pepper, salt and pepper, mushrooms and beans into a slow cooker. Chop the bacon into bite-size pieces and add to the pot. Garnish with salt and pepper and red pepper.
Set your slow cooker on low and cook about 6 - 8 hours, or until the beef is fully cooked. Serve it with cheddar cheese and enjoy!