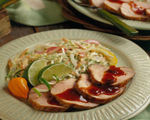 Prep: 20 min
Cook Time: 20 min
Total: 40 min
Serving: 6
Spicy pork and slaw go together wonderfully. You can make the slaw up to three hours early. Serve plenty of cool beverages such as iced tea or lemonade. This recipe is sponsored by the National Pork Board.
Ingredients
4 cups packaged coleslaw mix with carrots
1 large sweet onion, thinly sliced
1/2 red bell pepper, cut into thin strips
1/2 yellow bell pepper, cut into thin strips
1/2 cup Ranch salad dressing
2 tablespoons chopped fresh cilantro
1 tablespoon lime juice
1/2 cup hickory-flavored barbecue sauce
2 chipotle chiles packed in adobo sauce, minced
2 pounds pork tenderloins
2 tablespoons garlic-flavored oil
Directions
For slaw, combine coleslaw mix, onion and bell peppers in large bowl. Combine dressing, cilantro and lime juice in a small bowl; toss dressing mixture with coleslaw mixture just until all ingredients are well coated. Refrigerate, covered, until ready to serve.
For pork, prepare grill with medium-hot fire. Combine barbecue sauce with chipotle chiles. Brush tenderloin with garlic-flavored oil. Grill 8 minutes per side, or until meat thermometer inserted in thickest part reads 150 degrees F. Brush tenderloin generously with barbecue sauce mixture and grill a couple more minutes, about one minute per side. Let tenderloin stand 5 minutes before slicing.
To serve, place slaw in center of platter. Surround with sliced tenderloin. Remaining sauce can be served at the table.