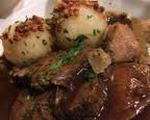 Prep: 25 min
Cook Time: 3 hr 30 min
Total: 3 hr 55 min
Serving: 4 people
Fresh vegetables and beef slow cooked to the perfect tenderness.
Ingredients
2 tablespoons unsalted butter
1 tablespoon sunflower oil
1 large onion, cut into wedges
3 pounds boneless top round or rump roast
3 carrots, peeled and thinly sliced
3 medium white potatoes, cubes
2 bay leaves
1/2 teaspoon salt
2 envelopes onion soup mix
1 tablespoon constarch
Directions
Combine butter and sunflower oil in large skillet and melt together. Put in the beef and onion. Cook until beef is brown on all sides. Move beef and onion into a slow cooker.
Place the carrots, bay leaves, and potatoes around the beef and sprinkle with salt. In a heatproof bowl, mix the soup mix with 3 cups boiling water. Stir until smooth.
Add the soup mixture to the slow cooker by pouring it over the beef. Cover and cook on high for 3 1/2 hours or until meat is very tender.
In a medium saucepan, make a paste by mixing together the cornstarch with 1 teaspoon of water. Then take 2 cups of liquid from the slow cooker and add it to the saucepan and bring to a boil while stirring until thick.
Serve beef with vegetables and gravy.