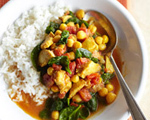 Prep: 10 min
Cook Time: 4 hr 30 min
Total: 4 hr 40 min
Serving: 8 servings
If you don't have a slow cooker, consider making the investment in this useful cooking appliance that makes delicious one-dish meals with amazing flavor.
Ingredients
2 pounds skinless, boneless chicken thighs, cut into 1-inch pieces
1 medium onion, chopped
3 cloves garlic, minced
5 teaspoons curry powder
2 teaspoons ground ginger
1/2 teaspoon salt
1/4 teaspoons ground black pepper
1/4 teaspoons cayenne pepper
2 15-ounce cans garbanzo beans (chickpeas), rinsed and drained
2 14.5-ounce cans diced tomatoes, undrained
1 cup chicken broth
1 bay leaf
2 tablespoons fresh lime juice
Olive oil to coat cooker
1 9-ounce package fresh spinach
Directions
Coat a 6-quart slow cooker with olive oil and then add the chicken, onion, and garlic, curry powder, ginger, cayenne, salt and pepper. Stir the mixture to combine and then add the beans, tomatoes, broth and bay leaf.
Cover the cooker and cook on high-heat for 4-1/2 hours.
Uncover the cooked stew and stir in the lime juice and the spinach. Let stand for 3 minutes and then serve with rice.