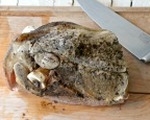 Prep: 10 min
Cook Time: 8 hr
Total: 8 hr 10 min
Serving: 6 People
After a long day at work, the last thing you want to do is stand by an oven for hours prepping a healthy and delicious meal for your family. So, instead of worrying about what you're going to feed your screaming kids and picky husband, why not let the slow cooker do the work for you? This slow cooked pot roast with a delectable herb crust cooks nice and slow for about 10 hours, giving it a melt-in-your-mouth, fall-off-the-bone tenderness with incredible flavor. Save your time and let an appliance do all the work!
Ingredients
4 pound pork roast
2 tablespoons butter
2 tablespoons oregano
1 tablespoon rosemary
1 tablespoon Italian seasoning
Liberal dashes of salt and pepper
1 tablespoon lemon juice
2 cups low sodium chicken broth
Directions
Mix the spices together and rub into the skin of the pork roast. Let it sit for about 5 minutes.
In a large pot over medium-high heat, melt butter. Add the pork and cook until browned on each side, about 2 - 4 minutes. Remove from the pan and place in a slow cooker.
Cover the pork roast with the lemon juice and broth. Add additional salt and pepper. Set cooker to low and cook for 8 - 10 hours, or until the pork falls off the bone.