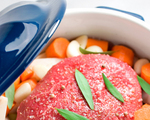 Prep: –
Cook Time: –
Total: –
Serving: Serves 8
Great for a Sunday meal, this twist on traditional prok roast will melt in your mouth, and the orange sauce adds an unusual accent and complements the curry.
Ingredients
1 tablespoon red or yellow curry powder
1/2 teaspoon salt
1/2 teaspoon allspice
2 cloves garlic, minced
1 (2-pound) boneless pork loin roast
1 cup hard cider, beef broth, or water
1 pound fresh dark cherries, stems
removed, pitted, halved (or frozen, thawed, drained)
1/4 cup dried cherries
Zest and juice of an orange
2 teaspoons balsamic vinegar
Pinch of cayenne or more to taste
Directions
Combine curry powder, salt, allspice and garlic in a small bowl and massage into pork
Spray a large nonstick skillet with nonstick cooking spray and set over medium-high heat. When skillet is hot, sear roast, turning every 30 to 60 seconds to lightly brown all sides.
Transfer roast to a slow cooker or crockery pot, add hard cider or other liquid, cover, and cook on LOW for 6 to 8 hours or until internal temperature of the roast reaches 145 degrees F. Transfer roast to a cutting board and tent with foil to keep warm.
Meanwhile, place cherries, orange zest and juice, balsamic vinegar and cayenne in a medium-sized saucepan over medium heat. Cook, stirring occasionally, until cherries break down and mixture is thickened, about 15 minutes. If sauce begins to stick to the pan, stir in 1 to 2 tablespoons of water.
Slice pork and fan onto a plate. Spoon sauce on top of pork and serve immediately.