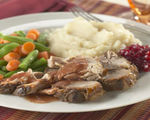 Prep: 20 min
Cook Time: 8 hr
Total: 8 hr 20 min
Serving: 8
This pork roast recipe is easy to make. Just throw everything in the slow cooker before you leave for work and come home to an amazing meal. This delicious winter recipe is sponsored by the National Pork Board.
Ingredients
4 pounds boneless pork shoulder roast (butt)
1 (6 ounce) can jellied cranberry sauce
2/3 cup sugar
3/4 cup cranberry juice
2 tablespoons Dijon-style mustard
1 teaspoons ground cloves
1 teaspoon ground black pepper
Salt, to taste
Directions
Trim fat from pork roast, if necessary. Place roast in 4- to 6-quart slow cooker.
Use wire whisk to stir together cranberry sauce and sugar in medium bowl.
Stir in juice, mustard, cloves and pepper until well combined. Pour cranberry mixture over roast in slow cooker.
Cover slow cooker and cook on low for 6 to 8 hours or until pork roast is tender.
Season roast to taste with salt; serve juices with roast.