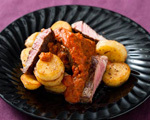 Prep: 20 min
Cook Time: 16 min
Total: 36 min
Serving: Makes 4 Servings
Serve this main course recipe with a side of steamed broccoli rabe and some roasted fingerling potatoes for a complete and delicious dinner.
Ingredients
1-1/4 pound flank steak
Sea salt and freshly ground black pepper
1-1/4 teaspoons ground cumin, divided
1 teaspoon of olive oil
1 cup water
8 sun-dried tomatoes, preferably in oil, drained
2 tablespoons capers, drained and chopped
1 clove garlic, smashed
1 tablespoon chopped parsley
1 tablespoon sherry or red wine vinegar
Directions
Season the meat on both sides with 1 teaspoon of cumin and some salt and pepper.
Grease the bottom of a large frying pan with the olive oil and set over medium heat until hot.
Add the steak and cook for 13 minutes, turning once, for medium rare doneness, then transfer to a cutting board to rest for 10 minutes before slicing.
In the meantime, place the water, tomatoes, capers, garlic, parsley and vinegar into a blender, and blend until smooth.
Transfer the tomato mixture to a saucepan and bring to a simmer over medium heat. Cook for 3 minutes and then season to taste with salt and pepper.
Spoon the sauce over the slices of steak and serve.