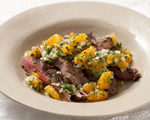 Prep: 15 min
Cook Time: 6 min
Total: 21 min
Serving: 4 Servings
Skirt steak is a long, flat cut of beef that cooks up quickly and has a rich, meaty flavor and tender texture. Enjoy it topped with this fresh orange and cilantro salsa.
Ingredients
3 naval oranges, peeled and pithed
2 tablespoons finely chopped shallots, from one medium shallot
1 teaspoon distilled white vinegar
3 tablespoons extra-virgin olive oil, divided
1 clove garlic
24 ounces skirt steak, cut into 4 6-ounce serving pieces
1/2 cup coarsely chopped cilantro leaves
Sea salt and freshly ground pepper
Directions
Prepare your oven broiler.
Place the steaks onto a broiler pan; brush with 1 tablespoon of olive oil and then sprinkle with the garlic and a few pinches of salt and fresh pepper. Place the steaks in the oven and cook 5-inches from the heat source for 6 minutes, turning once after 3 minutes, Transfer to a cutting board and let rest for 2 minutes before thinly slicing.
In the meantime, cut the peeled and pithed oranges into 1/2-inch pieces and then place into a bowl. Add the shallot, vinegar, cilantro, 2 tablespoons of olive oil and a few pinches of salt and pepper to taste. Toss gently to combine.
Serve the sliced steak topped with the orange salsa.