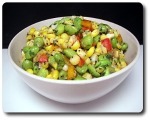 Prep: 15 min
Cook Time: 15 min
Total: 30 min
Serving: Serves 4 people
Skillet Succotash, with its beans and corn, makes a great side dish for tailgating, picnics or the fall season.
Ingredients
1 pound (1 cup) of fresh fava beans, shelled
2 tablespoons of olive oil
4 cups of fresh corn kernels (cut from 4 ears of corn)
1 small onion, finely diced
2 small garlic cloves, minced
1 teaspoon of kosher salt
1/2 red bell pepper, thinly sliced
1 scallion, thinly sliced
Directions
Bring a pot of lightly salted water to a boil, and blanch the fava beans for about 2 minutes.
Rinse the beans in cold water and peel off the green skins. Set beans to the side.
In a large skillet over medium heat, heat the oil. Add the corn, onion, garlic and salt, and cook (stirring often) until the vegetables are slightly charred and golden (about 7 minutes).
Add the bell pepper and fava beans to the corn mixture and cook for about 2 minutes. Remove the vegetables from the heat and add the scallion and toss together.
Serve warm as a side dish.