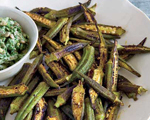 Prep: 15 min
Cook Time: 15 min
Total: 30 min
Serving: 4 Servings
Okra is a common side dish in the South. Enjoy it here roasted and seasoned with a medley of spices.
Ingredients
3/4 teaspoon hot paprika
1/4 teaspoon ground cumin
1/4 teaspoon ground coriander
1/4 teaspoon ground fennel seeds
1/8 teaspoon turmeric
pinch of cinnamon
pinch of ground fenugreek, optional
2 tablespoons olive oil
1 pound small okra, halved lengthwise
Salt
2 tablespoons fresh lemon juice
Directions
Place the paprika with the cumin, coriander, fennel, turmeric, cinnamon and fenugreek in a small bowl and mix to combine.
Place 1 tablespoon of oil, each, into two large skillets, and place over high heat.
Divide the okra between each of the skillets and cook for 2 minutes before reducing the heat to medium and cooking for an additional 4 minutes.
Sprinkle the okra with the spice mixture and cook over low heat for 2 minutes.
Season with salt and then drizzle with the lemon juice. Serve hot.